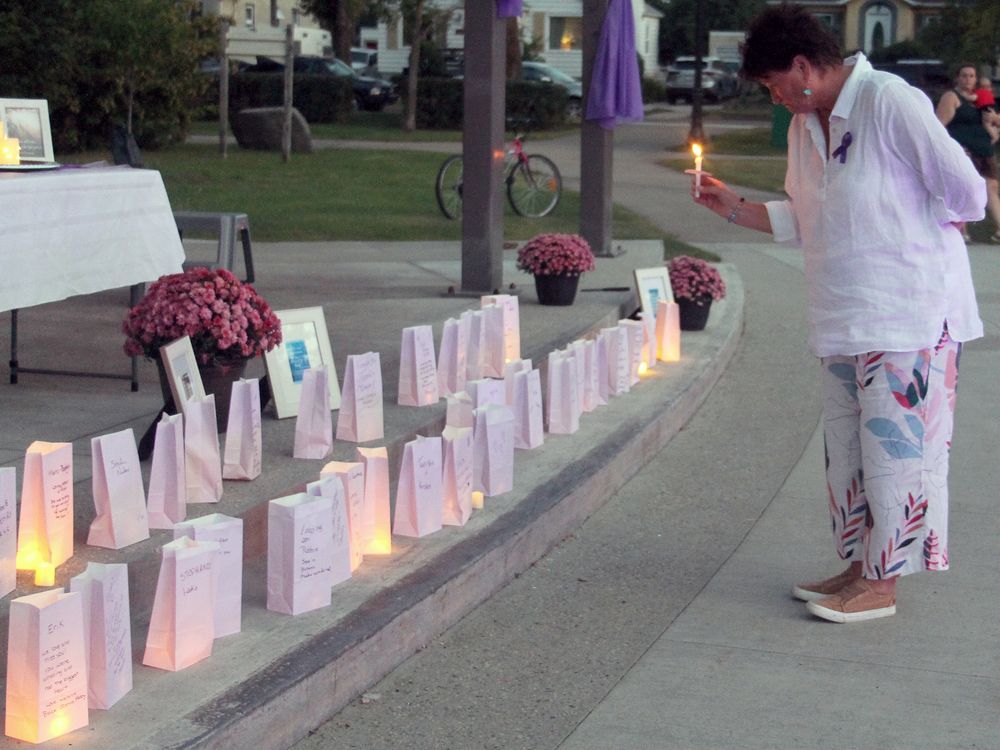 Shedding light on overdoses
Content of the article
About 50 people from all walks of life gathered at Diamond Jubilee Park last week to light a candle for those who lost an overdose.
Content of the article
In the first or what Wetaskiwin FCSS hopes will be an annual event, the park was the site of a candlelight vigil to mark International Overdose Awareness Day on August 31.
"This is the largest annual campaign to end overdoses," said Wetaskiwin FCSS program coordinator Cindy Plant. "A day set aside to remember and mourn, without stigma or shame, those who died by overdose. A day to learn, listen and reflect. Now is also the time to act. »
Plant said Overdose Awareness Day provides an opportunity for people to learn more about signs, symptoms and statistics, as well as trauma, mental health, treatment options, support options. , naloxone and harm reduction strategies.
"Tonight is about building community. It's about support and sharing common experiences," Plant said. "We have all experienced a great loss. It's part of life, part of the human experience. Grief is universal. But if there's one thing that makes grief even harder than the overwhelming, breathless, heartbreaking experience it already is, it's isolation.
Content of the article
According to the Alberta RCMP, in 2021 Alberta lost more than 800 lives due to accidental methamphetamine overdoses, a 28% increase from 2020.
Additionally, there were 10,401 substance use-related ED visits and 8,253 EMS responses to opioid-related events.
"Our communities have suffered a great amount of loss," Plant said. We have seen the pain and suffering of so many people.
This includes Kelli, a young mother and businesswoman who found herself plagued by addictions.
"My relationship fell apart and so did I," she told the crowd gathered in the park. "Drug addicts don't wake up one morning and decide to throw their life away."
After years of struggling to get away from drugs and find the supports that could help her, Kelli said, as of August 31, she had been sober for four months and was working to stay that way.
Content of the article
Rhonda Watt, the mother of Erik Garthus – a local man who attended Griffiths-Scott School, Sacred Heart School and Wetaskiwin Composite High School; played basketball, took up Tae Kwon Do, such as fishing, rugby and making clay figures until he died of a drug overdose at Wetaskiwin Hospital and Care Center in 2017.
"Today, five years later, my personal and professional life has changed," said Watt, who is a nurse.
Now Watt strives to educate people and advocate for those affected by addiction.
"The problems in Wetaskiwin started many years ago," she said. "Changes have happened, even with the difficult circumstances in the community. Wetaskiwin is not alone in its struggles, but we are unique.
More needs to be done, she said, to reduce the stigma associated with substance abuse and to provide more harm reduction strategies to users – safe injection sites – as they provide resources and a social connection to users. and uncontaminated drugs. with a deadlier cocktail that could kill.
"People's lives depend on us."