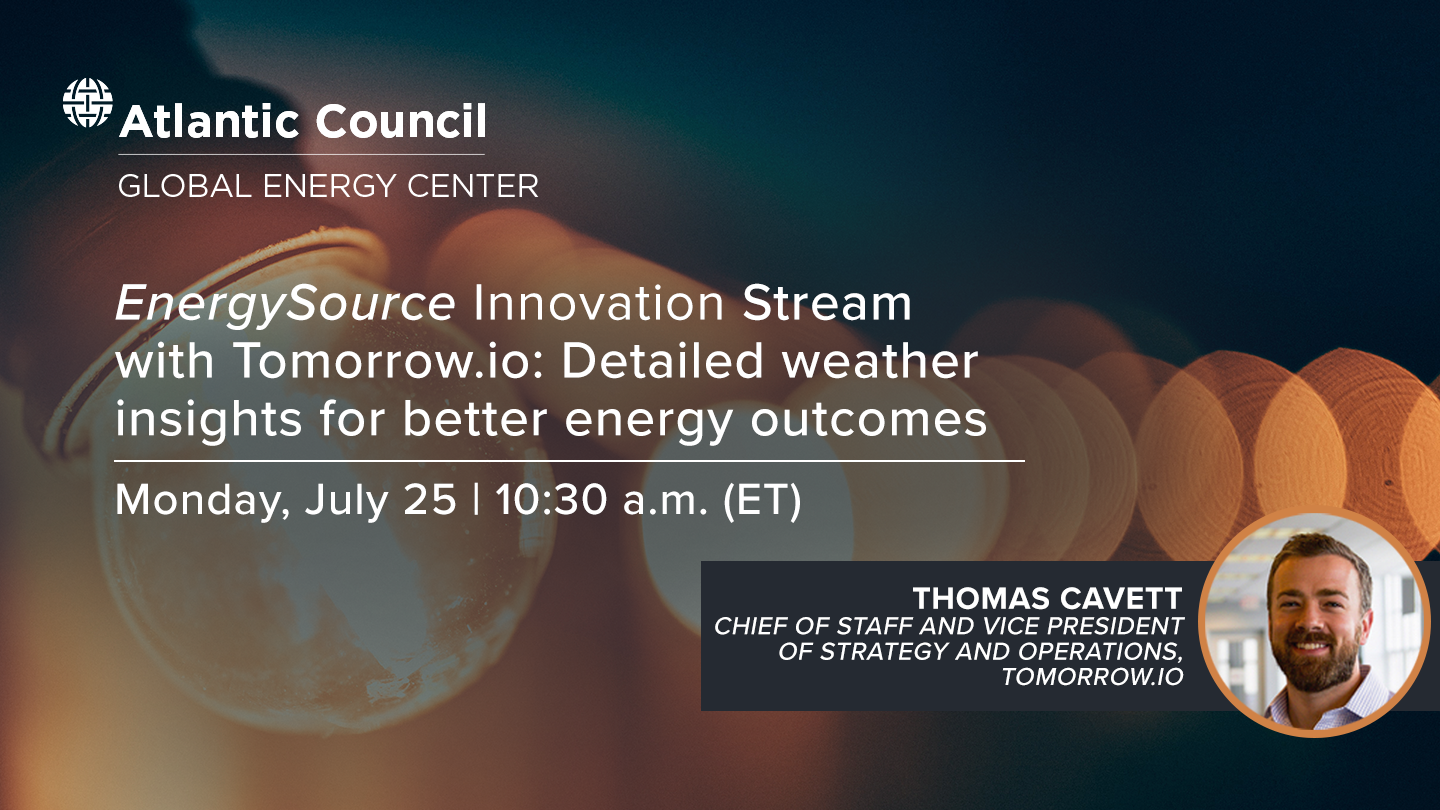 EnergySource Innovation Feed with Tomorrow.io: Detailed Weather Information for Better Energy Outcomes
Please join the Atlantic Council Global Energy Center for the next episode of EnergySource Innovation Stream. This series highlights energy innovations that have the potential to reshape the global energy system through discussions with the companies and individuals who are working diligently to make these innovations impact the energy transition. On Monday, July 25 from 10:30 a.m. to 11:00 a.m. ETthe Global Energy Center will host Thomas Cavett, chief of staff and vice president of strategy and operations at Tomorrow.io, to discuss the company's approach to extracting and packaging high-quality weather data to deliver greater certainty. Reed Blakemore, Acting Director of the Global Energy Center, will moderate the discussion.
Climate change is already destabilizing weather patterns, and weather resilience and predictability are becoming non-negotiable factors when working on energy installations. Intensified storms can endanger wind turbine maintenance workers, for example, or a week of fog can severely limit the productivity and profitability of a solar farm. The energy sector of the future will need to be highly tuned and essentially insensitive to weather conditions.
Tomorrow.io makes it a possibility. The company's automated and personalized weather intelligence platform gives energy companies the ability to plan medium- and long-term resource allocation, protect workers and prepare for outages. Tomorrow.io understands that energy demand and supply are intimately linked to the weather, a connection that will only grow stronger as the transition continues. So, by providing unparalleled weather information that can secure operations, Tomorrow.io gives organizations involved in the energy transition a much better chance of success.
Please join this conversation through the Zoom web app, which is accessible through your web browser, the Zoom desktop or mobile app, and by phone. If you want to join the Q&A, you must join via Zoom. You must register to receive more information on how to join the virtual hearing.
With
Thomas Cavett, Chief of Staff and Vice President of Strategy and OperationsTomorrow.io
Thomas is chief of staff and vice president of strategy and operations at Tomorrow.io. Thomas served in the US Army as a Green Beret in an elite counter-terrorism unit in the Asia-Pacific region. He was co-founder and CEO of a wearable medical device company and is also a former strategy consultant at McKinsey & Company where he worked in a variety of industries ranging from medical device manufacturing, telecommunications and cybersecurity to manufacturing and advanced industrial services. Thomas is the former director of business operations for Tomorrow.io's space team and created and led its government affairs team focused on weather and climate policy on Capitol Hill. Thomas holds an MBA from the Wharton School of Business and a Masters in International Studies from the Lauder Institute.
Moderated by
The world energy center promotes energy security by working alongside government, industry, civil society and public stakeholders to design pragmatic solutions to the geopolitical, sustainability and economic challenges of the changing global energy landscape.
Register
Please complete the information below. Items marked with a * are required.